100% of your gift to Catholic Charities' Utility Appeal will assist families to keep their lights and utilities on.
Our Mission
Catholic Charities of the Diocese of La Crosse proclaims Christ's Gospel of Life and promotes human dignity by alleviating poverty and strengthening individuals and families.
Our Vision
Believing in the presence of God in our midst, and called by the Diocesan Bishop, Catholic Charities proclaims the sanctity of human life and the dignity of the person by sharing in the mission of Jesus given to the Church.
To this end, Catholic Charities works with individuals, families, and communities to help them meet their needs, address their issues, eliminate oppression, and build a just and compassionate society.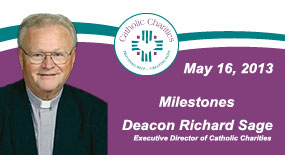 Community Homeless Facilities' News
La Crosse Warming Center - November - February service numbers are posted - check it out!
Catholic Charities is COA accredited.
Catholic Charities is recognized for providing quality services that comply with nationally recognized best practice standards.
Learn more about COA